Our core breeding component of Red and Black Angus were identified across South Africa and brought to Invermooi Estate to form the Basis of the Invermooi Angus Stud. This herd was obtained through stringent criteria such as Phenotype and Genotype being key indicators used for selection and the services of Mr. Piet Delport were sourced as one of South Africa's top Stud Angus Breeders.
In addition to the selection of top genetic material from various Angus studs throughout South Africa, Invermooi Estate has selected and sourced semen from some of the best bulls in America, Canada and Europe. We have incorporated these imported blood lines through artificial insemination onto our best female lines. We have also imported embryos from the best red Angus herd in Canada, Blairs Farming Canada. These genetics will be incorporated into the Invermooi Angus stud herd and will undoubtedly further improve our already impressive genetic pool.
Invermooi Estate has strict criteria when selecting their Donor Cows and many hours are involved in selecting the right Sires for these Donor Cows. Dr Robert Treadwell of Embryo Plus is our Embryo Programme Veterinarian and Program coordinator.
Herd Health is carried out by our own trained Staff under the guidance of Dr Rodger Turner of the Estcourt Veterinary Clinic. We enjoy Showing our Angus across South Africa and feel this is important to show fellow Angus breeders and commercial beef breeders that Invermooi Angus Stud can meet their Angus breeding requirements.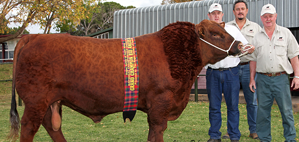 Hide-A-Ways Uprise
Red Angus South African National Champion Bull. 2015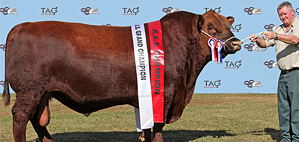 Hide-A-Ways Wing Commander
Red Angus Snr, Champ Bull, Royal Show. 2016
Silveiras Mission Nexus
RB Tour of Duty
Bieber Roosevelt
W384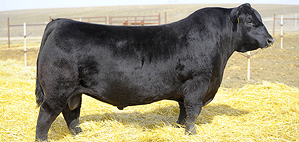 SAV International 2020